The Biosafety Office arranges for the annual certification of Biosafety Cabinets and Laminar Flow Hood/Clean Benches. We also manage the preventative maintenance contract for shared use campus autoclaves and associated boilers.
Biosafety Cabinets & Laminar Flow Hoods
Certification
The Biosafety Office arranges and covers the cost of annual certification for all biosafety cabinets and laminar flow hoods/clean benches each July. If you plan on bringing a new piece of equipment on campus, contact us so we assist in getting your equipment certified.
Moving Equipment
Biosafety cabinets MUST be decontaminated when they are moved. Decontamination is performed by the campus contractor using vapor hydrogen peroxide. The BSC must be recertified once it is installed in its new location. Laminar flow hood/clean benches do not require decontamination but do require recertification once they are moved.
Contact us if you're planning to move any of these pieces of equipment so that we can arrange for services with the contractor.
Repairs
If your BSC or laminar flow hood/clean bench fails or stops working correctly, contact us so that we can assist in scheduling repairs. The cost of repairs is the responsibility of the PI/department. EHS will cover the cost of recertification once the repairs are completed.
Autoclaves
Preventative Maintenance
The Biosafety Office manages the campus contract for autoclave preventative maintenance. This contract covers shared-use, departmental autoclaves and their associated boilers. The contract covers quarter-annual standard maintenance issues, such as replacing gaskets. While contracted technician rates are included on the contract, the contract does not cover the cost of repairs associated with broken units, a fee which falls on the owner of the autoclave. If your autoclave is in need of repair or maintenance, follow the standard operating procedure posted by your autoclave that looks like the picture below.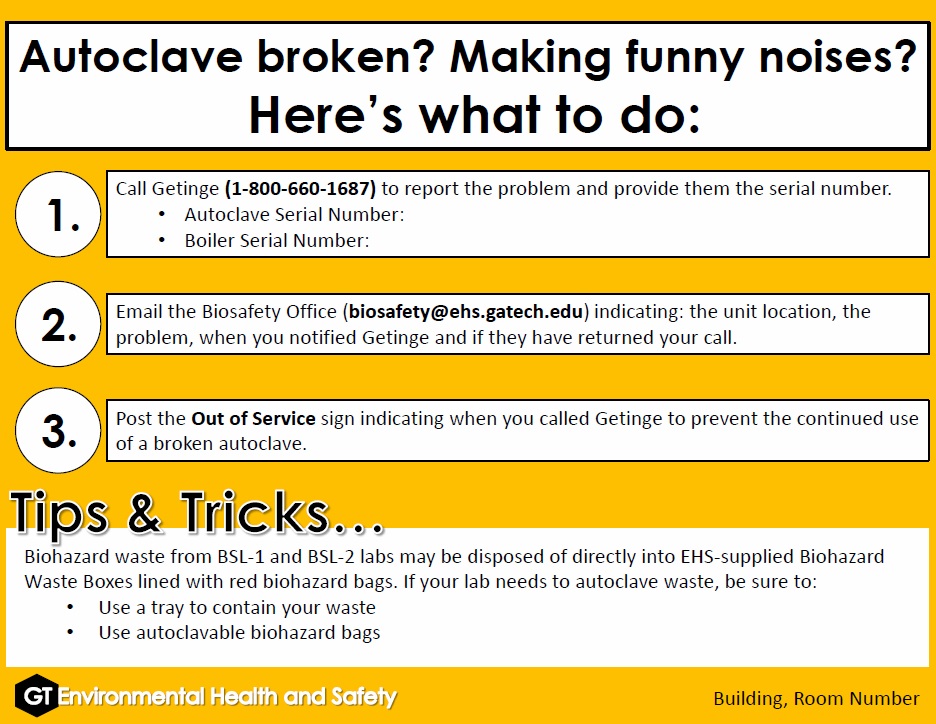 Working Safely with Autoclaves
Biohazard waste from BSL-1 and 2 labs may be disposed of directly into EHS supplied Biohazard Waste Boxes lined with red biohazard bags.
If your lab needs to autoclave waste, be sure to:
• Use a tray to contain your waste
• Use autoclavable biohazard bags
• Be trained on proper autoclave use